Conversion Process - Electrical - Alltrax Controller and Cycle Analyst Arrive.....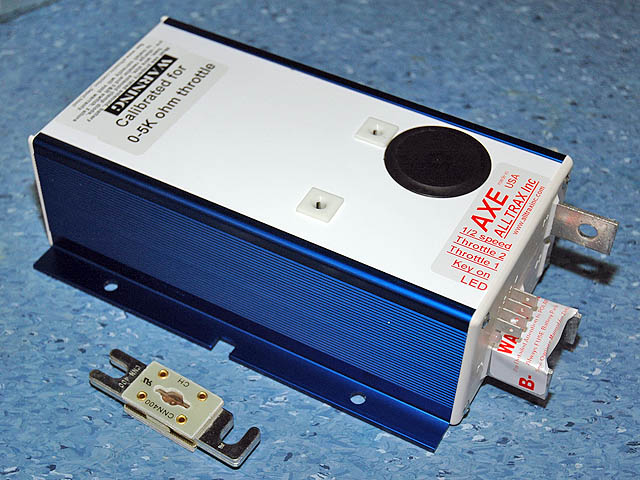 Alltarx AXE Motor Controller
(with 400 Amp Fuse)


The AXE
Performance
product line is designed to be used with series wound motors and
ideal for small "Neighbourhood" electric vehicle applications.

Features include:


Programmable via RS232 com or USB port using PC or Laptop

Integrated anodized heat-sink with multi bolt pattern for flexibility

Fully encapsulated epoxy fill - environmentally rugged design

Available in 300 through 650 amp Performance versions

Advanced MOSFET power transistor design for excellent efficiency
and power transfer
Adjustments via Computer Controller Pro software:
Throttle acceleration / deceleration rate and map profile

Armature current limit

Brake current limit

Under / Over voltage shutdown

Half Speed Reverse

High Pedal Disable
The AXE controller will be used with this Advance DC Motor Imported from America......
Advanced DC Motor
Model 203-06-4001 , 72-120VDC, single shaft, 8" diameter
21.7 HP continuous at 120 VDC
This series wound DC motor is very popular amongst EV builders, a bit old in design but extremely reliable. This motor weights about 50Kg (110lbs).
Horsepower Ratings:
And the baby "Cycle Analyst" will be used to monitor the system.....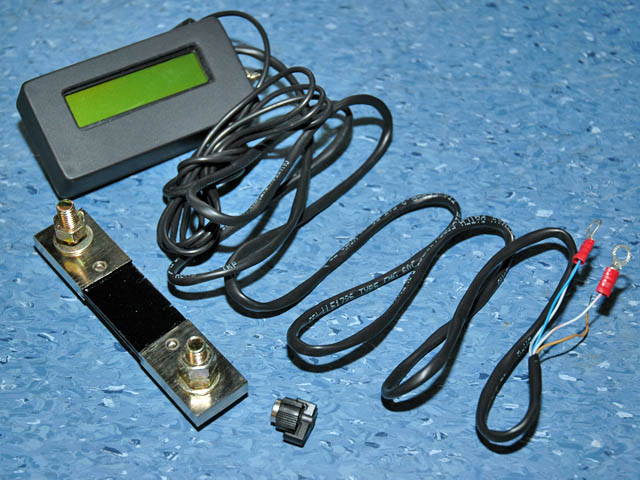 Cycle Analyst


Model CA-HC/V -
up to 600 Amp @ 14-200 volts (with shunt shown)
The Cycle Analyst is the ultimate little power meter for electric vehicles.
It helps you optimize battery use, extend your range, gives you peace of mind and safety while operating your EV.
The CA displays:
Volts, Watts, Amps: The instantaneous electric power being drawn from the battery Amp-Hours
Watt Hours: The accumulated energy that has been pulled from the pack since the meter was reset
Amp-hours lets you know the remaining energy in the battery pack with far greater accuracy than a voltage or LED indicator
Speed, Distance, Time: All of the basic features of a bicycle computer, including the average and maximum trip speeds, plus a total distance odometer
Regen: If your system has regenerative features, you will be able to measure its effectiveness

Wh/km or Wh/mile: A great way to measure your vehicle's average energy use Peak Currents and Voltage

Sag: Records the maximum positive and negative (regenerative and charging) currents as well as the minimum voltage on the battery pack

Total Battery Cycles and Amp-Hours: Retains life cycle information on the vehicle's battery pack, such as how many charge and discharge cycles the pack has experienced and the total amp-hours that were delivered over its entire life
Back to "Conversion Process - Electrical" Index Page